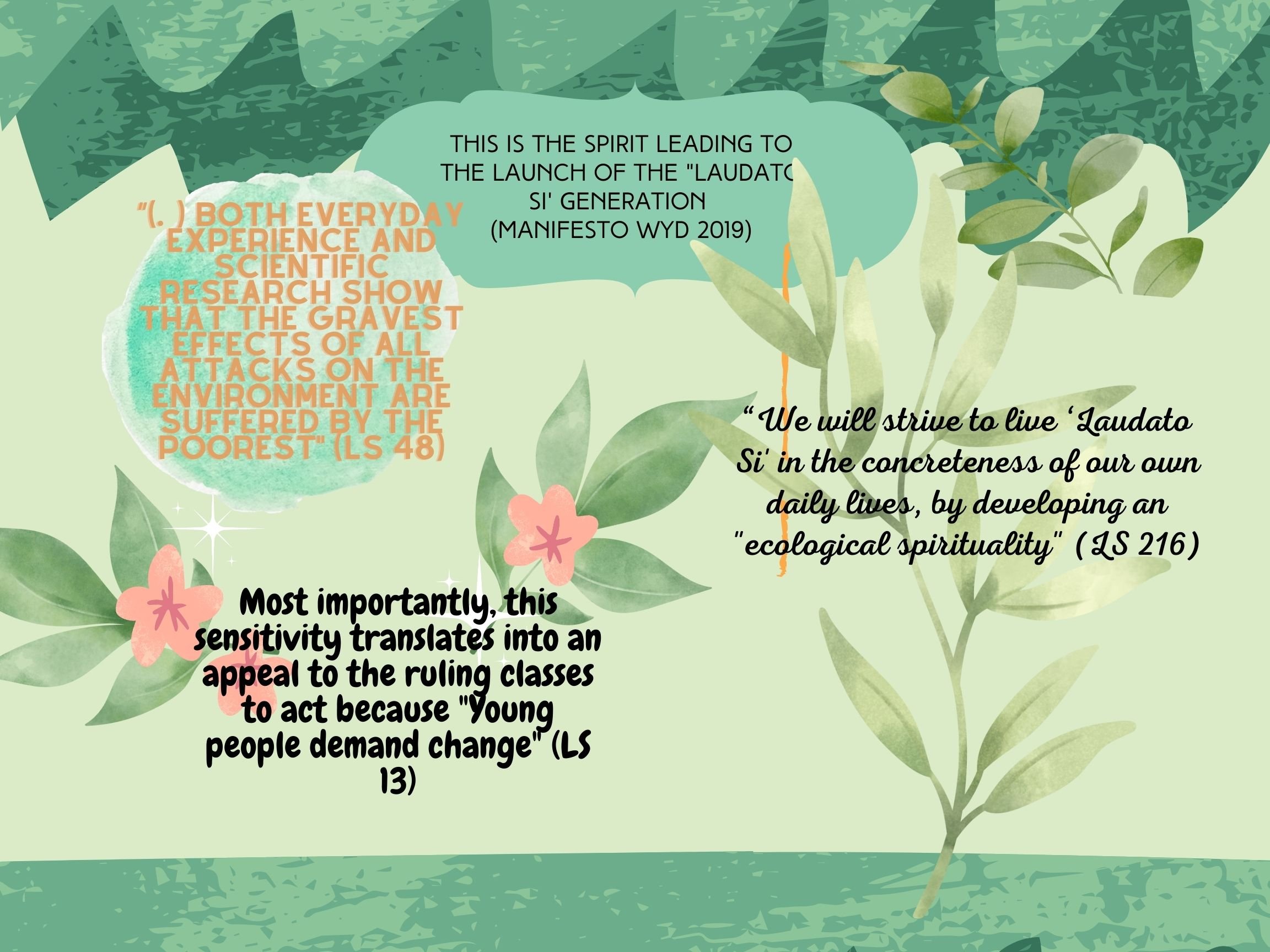 About photo: Quotes from WYD Manifesto, Panama
December 7, 2021
12:00 PM PT | 2:00 PM CT | 3:00 PM ET
60 minutes

(scroll down for registration form and to receive Zoom link)
Current Ministry Location: Darien, Panama
Maryknoll Sisters in Panama are living Pope Francis' call to care for God's creation! Experience in this webinar how one community of missioners are caring for our earth in the beautiful and abundant country of Panama. Maryknoll Sister Jocelyn Fenix, MM shares her communities commitment to radically living out the call of Laudato Si in Panama and trains others as well through giving alternative health workshops to local lay leaders.
What brought Sr. Joji to this particular vocation?
Born in the Philippines, Sister Jocelyn, "Joji" as she is fondly called, entered Maryknoll on August 26th, 1989, from Santa Rita Parish in the Archdiocese of Manila. She graduated from Maryknoll College High School in the Philippines in 1975. Sister Joji received a B.S. in psychology from the University of the Philippines in 1979 and her M.D. degree from the University of the East – Ramon Magsaysay College of Medicine in Quezon City, Philippines, in 1985.
After language study for six months in Cochabamba, Bolivia, Sister Joji began her ministry in the Santa Fe district of Darien, Panama, in 1993. Sister Joji focused on primary health care and pastoral work in the Mission Zone's 24 communities. Trained as a medical doctor, Sister Joji also served at the Sisters' pastoral care center, which gives workshops on integrated health and nutrition, organic agriculture, small project administration, and family administration. Besides Christian formation and education, the center also has a model farm, conserving some 96 acres of the surrounding rainforest and letting it grow back with native plants and animals. Between 1994 to 2013 Sister Joji used her skills in primary health care and alternative health in a project to help farmers find and cultivate native medicinal plants. Sister Joji also started a small savings and loan association to help members develop their own family farms and produce their own basic foods in addition to the medicinal plants. Sister Joji also started a small savings and loan association to help members develop their own family farms and produce their own basic foods in addition to the medicinal plants. The people often ask Sister Joji, "Why did you go to a place like Darien, so far from your own family and friends?" And her answer is, "It's because of you people and Darien itself."